Korone's Kartastrophic Racers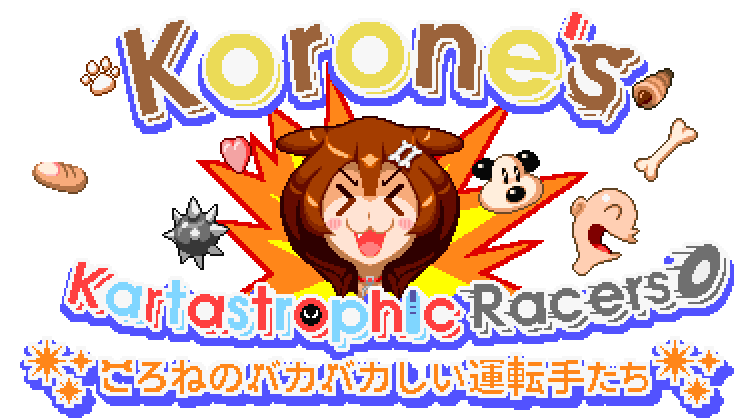 Disclaimer: This addon is not affiliated with Hololive or Cover Corp in any way! The addon was made while following all guidelines under the Hololive Derivative Works guidelines.
For those of you who are new or have seen the Creepy Quillers Char' Pack, this is another passion project/addon I'm making for the Sonic Racing fan game, SRB2Kart, developed by Kart Krew. The plan, much like before, is to release a new character within 1 month apart from each other.
I really like Korone and seeing that she is now a Sonic ambassador, I thought I could make a character pack based on her and her history in general. There will be eight racers, with each one being tied to Korone in some way and also representing a facet of her history as a Virtual Youtuber.

        Racer #1: Korone Inugami
         🐶Energetic Doggo🥐​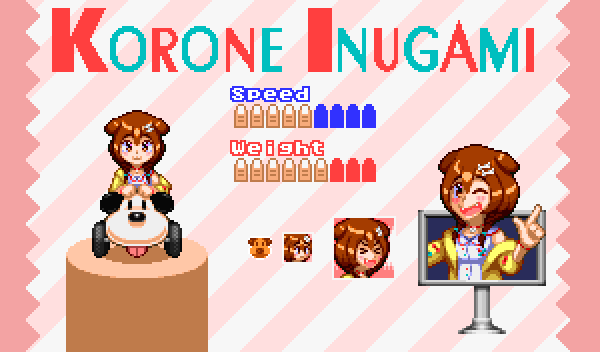 Who is Korone Inugami? 🤔

Korone is a Japanese Virtual YouTuber who is associated with Hololive Production, being part of the group called "hololive GAMERS". Consisting of four members who all have animal-like designs, such as ears and tails. The kart that Korone drives around in is based on a piece of fan art that is based on FutoInu, a dog that was present in Korone's signature and that later on became one of her mascots.
---
        Racer #2: Listener-san
           💻Committed Follower☝️​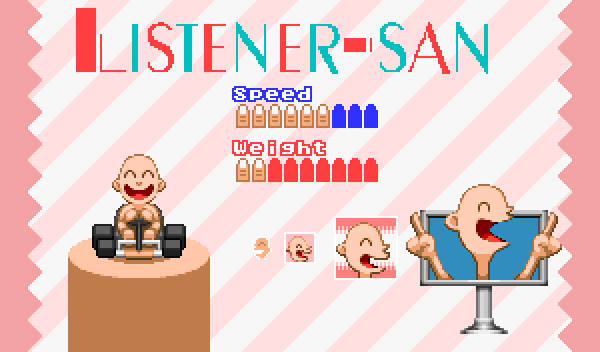 Who is Listener-san? 🤔
Listerner-san is one of the mascots that is used to represent Korone's fanbase. During a live stream, Korone had made a simple drawing of a disembodied head with a large mouth as a means of eating up any food she may have made by mistake in the video game, "SushiTime!". Although originally conceived as just a head, there have been some cases where Listener-san is depicted with an entire body.
---
         Racer #3: Darkside Korone
        💻Otherworldly Counterpart☝️​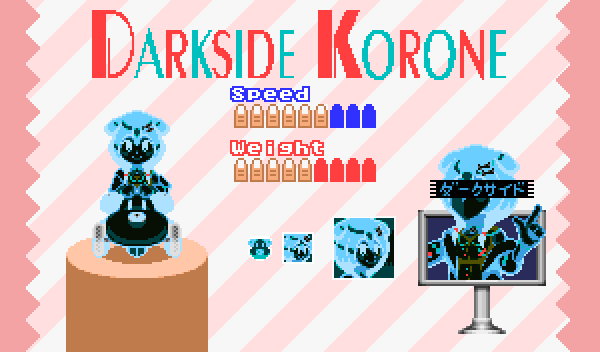 Who is Darkside Korone? 🤔

Darkside Korone is essentially the complete opposite of Korone in terms of personality and behavior. After a capture card failure had occurred during a live stream, Korone improvised by putting an photo negative filter and giving herself an echo effect. Darkside Korone would make her entrance and stay around for while. She explained later on that if another similar failure were to occur, Darkside may appear again due to Korone's grief.
---
If you want to play as these silly characters, then check out the SRB2Kart addon on the forums, I'm sure you'll have fun.